Richter supports with critical replacement of bridge.
Due to the deterioration of Underbridge 54 in North Leamington Spa, the Leamington Spa to Coventry line has been undergoing a series of speed restrictions reducing Networks Rails passenger experience. The replacement of the asset became a critical item for Network Rail's delivery team to undertake during the Easter possessions.
Richter, in collaboration with Story Contracting, Mammoet, and Mott MacDonald were commissioned to undertake the challenge, in expedited timescales. The existing bridge consisted of a long timber steel trough deck structure with an abandoned jack arch span adjacent, with the proposed bridge structure to be a series of concrete trough decks situated on concrete cill beams. The new structure was to be precast, allowing delivery to site and transportation into its final position. Given the location of the bridge, the first major challenge to be undertaken by the team was ensuring that a compound could be safely developed, with the only possible location being near the river Avon.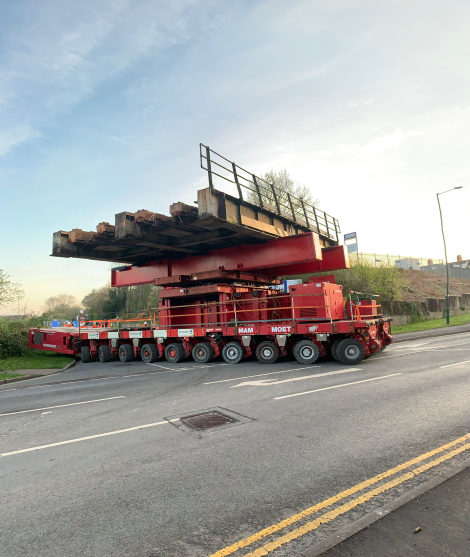 Richter and one of its group companies, Preene Groundwater Consulting undertook an appraisal of the situation developing a solution that ensured Mammoet could safely conduct its heavy lifts and bridge move successfully. A remediation package was developed should it have been required and integrated into the compound design. To ensure that Mammoet could successfully transport out the existing trough decks, Richter developed a safe demolition methodology providing services protection, a cable bridge, and a full review of the divorce sequence between the adjacent jack arch structure and the rail bridge.

Additionally, Richter provided its technical expertise to independently check Mammoet's SPMT move and jacking systems, including its bespoke turntable system; designed to rotate the 400Te new bridge from its transportation orientation immediately prior to landing it. Throughout the duration of the works, Richter provided consistent technical support to the client delivery team, including the possession and are delighted with the projects success.